Lending Club Review
Here's a Lending Club Review from an individual that personally has more than $100,000 invested in peer-to-peer loans via Lending Club.
Lending Club was founded in 2006 with the goal of eliminating banks from the lending process, allowing savers to get better interest rates on their money and allowing borrowers to get better interest rates on unsecured loans. Five years later, Lending Club has facilitated more than $255 million in loans between borrowers and lenders on its website and has become the largest peer-to-peer lending company in the world.
Lending Club the Company:
Lending Club Corp. is based in San Francisco, CA and has approximately 50 employees. The company was previously headquartered in Sunnyvale, CA and Redwood City, CA. Renaud Laplanche is the company's founder and chief executive officer.  The company has received several rounds of venture capital. The service has received more than $2.8 billion in demand for loans and facilitated $258.8 million in loans as of April 22nd, 2011.
Borrowing from Lending Club
As a service, Lending Club facilitates loans between people that want to borrow money and investors that want to make loans. Individuals looking to borrow money can go through Lending Club's online application process. Lending Club does an instant credit check and provides a quote as to what interest rate a borrower can get a loan at. After a borrower completes his or her loan application, the loan goes into a funding period in which investors can help fund the loan. This process can take up to two weeks, but borrowers that present their request well often get funded sooner. After a loan gets funded, the borrower will receive the funds via ACH transfer. Lending Club manages the repayment process and automatically distributes the borrowers payments back to the investors that funded the loan.
Lending Club offers three-year and five-year fully amortizing unsecured loans between $1,000 and $25,000. The interest rates that borrowers pay is a function of their credit history and other factors that determine the likeliness whether or not a borrower is likely to repay their loan. Interest rates on Lending Club loans currently range from 5.42% for those with the best credit history to 21.59% for those with troubled credit. Borrowers are charged an origination fee that ranges between 2% and 5%.. Lending Club loans do not have a prepayment penalty.
Borrowers on the service most frequently take out loans to consolidate their debt, however, Lending Club will provide loans to borrowers for just about any reason, including automobile financing, home remodeling, education, medical expenses, wedding expenses and business expenses. A cursory review of Lending Club's loan listings will show that the vast majority of borrowers are looking to consolidate credit card and other debt. It's not hard to see why, given that borrowers can typically shave several percentage points off of their interest rate.
Investing with Lending Club
Many investors that have been looking for alternative investments outside of stocks, bonds and real estate have turned to Lending Club as a way to diversify their portfolio. Lending Club allows investors to essentially create their own collateralized debt obligation by funding loan requests through Lending Club's peer-to-peer lending service. The company says that investors on average have earned a 9.5% rate of return after defaults and fees. Lending Club notes act like CDs, but they offer much better interest than CD Rates.
The process of becoming an investor on Lending Club is rather straightforward. Investors can get started by creating an account on Lending Club and electronically transferring funds into their account. Investors can than review loan requests made by borrowers on the site. The service provides detailed credit information about each loan request and a statement from the borrower hoping to get a loan. Lending Club also provides a number of filters to find loans that meet an investor's specific criteria in finding loans that they want to fund.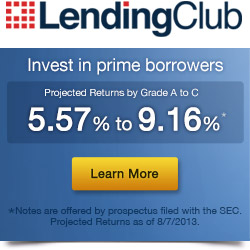 After selecting loans to fund, Lending Club will deduct the amount that the investor wishes to lend from his or her account. After the loan's funding process is complete, Lending Club will provide the funds to the borrower and thirty days later, the lender will receive their share of the borrower's first payment.  The lender will continue to receive payments monthly until the loan is fully paid-off after thirty-six or sixty months.
Any Lending Club review would be incomplete with out a discussion of the risks involved with investing in peer-to-peer loans.  There's the possibility that a borrower will pay late or default on their loan. This can and does happen, reducing lenders overall rates of return, however, these risks can be minimized by spreading funds across a large number of loans and by choosing loans of higher credit quality. Many lenders have also developed specific strategies to maximize their rate of return and minimize loan losses.
Unfortunately, not everyone can become an investor in Lending Club. Only individuals that live in CA, CO, CT, DE, FL, GA, HI, ID, IL, KY, LA, ME, MN, MO, MS, MT, NH, NV, NY, RI, SC, SD, UT, VA, WA, WI, WV, or WY can make loans through Lending Club. Lending Club has other suitability rules, however, they are not enforced by the company.
Lending Club also offers a secondary market for loans that is operated by FolioFN. This secondary market provides investors a way to liquidate their investment if they need to cash out. Additionally, investors that live in a state that would not normally be able to invest in Lending Club loans can invest in loans via Lending Club's secondary market.
Conclusion
Lending Club, and its primary competitor Prosper.com, remains a relatively new phenomenon in the lending world. Investors should be reasonably cautious before investing a large amount into peer-to-peer loans, but many early Lending Club investors have reported positive experiences with the service.
Those looking to take out a loan via Lending Club will find their experience not all that different than taking out a loan from a bank, however, borrowers can get much better interest rates via Lending Club than they would from a bank if they have reasonably good credit.
Borrowers and investors that wish to do their own Lending Club Review can visit Lending Club's website.